We have discovered that rye fermented with a secret cocktail of a Lactobacillus species results in unique hydrolysis of β-1, 3-glucan esters. These esters strengthen the microbiome, provide cell renewal benefits to delay skin ageing, protect skin against internal and external factors and ensure optimum skin condition. But we also found that these esters inhibit the growth of C. acnes (the main bacteria responsible for blemished skin) and bring back the population to normal proportions. 

So with our patented formulation we are able to reduce the C. acnes population to normal to reduce inflammations and finally let them disappear. The vicious circle is broken!
See below the difference in the number of C. acnes (white dots) in a Thioglycolate dilution. After 1 hour there is a clear difference between the number of C. acnes bacteria on the left photo and on the right photo the dilution with the Anna Clear formula added.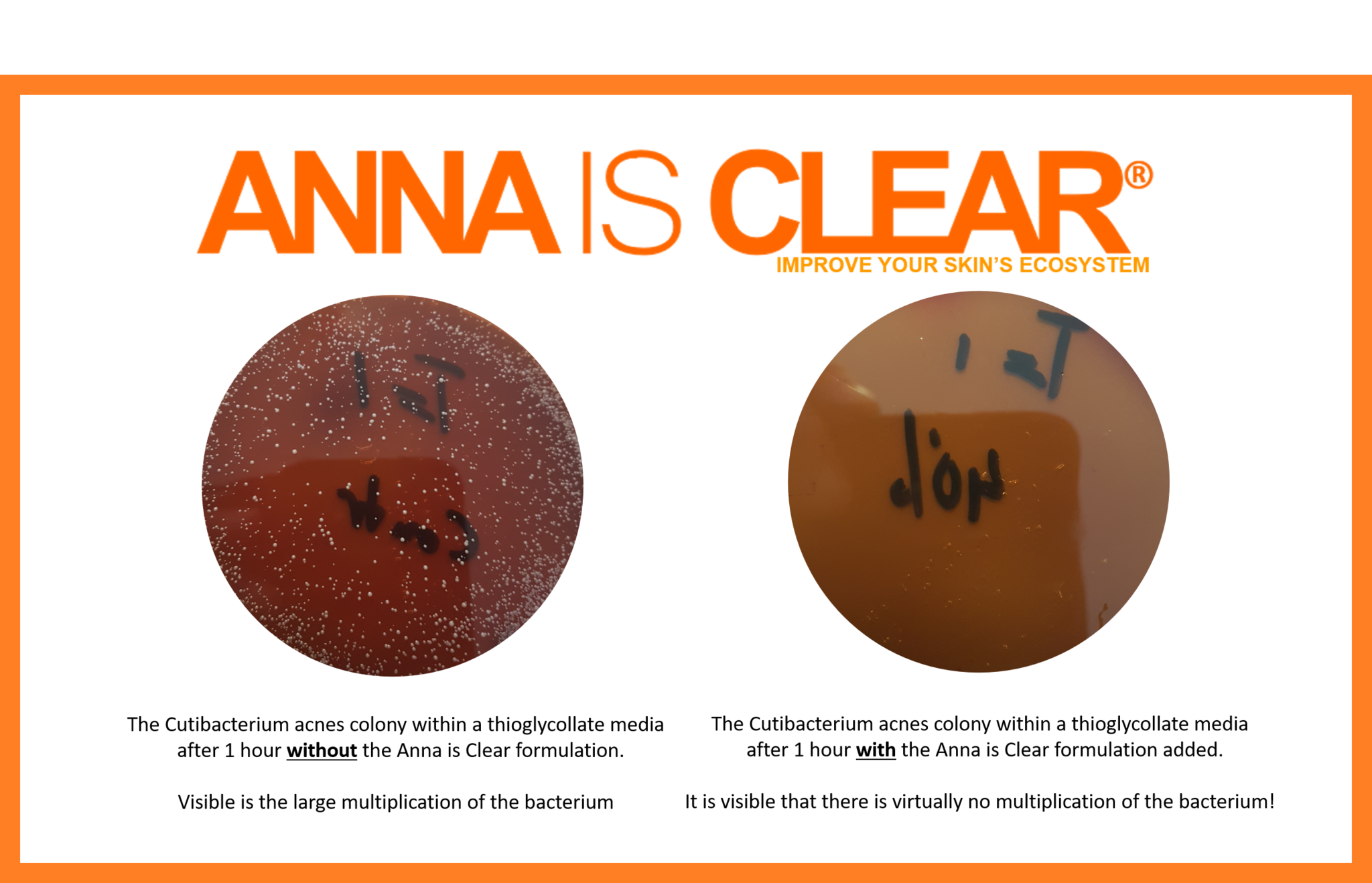 However, a major problem must be solved. Our bacteria inhibiting ingredient should be able to reach the C. acnes hiding deep in the sebaceous glands.

The sebaceous glands can be reached in two different ways. One possibility is to add our fermented rye to a cream which also reduces the viscosity of the sebum. This is possible by using a cream with dimethyl or diisopropyl sebacate. We have tested such a cream with our ferment, but it turned out that another method, transdermal transport, was more effective. For this we have developed special for our ferment a patented transdermal transport which enables transport of the ferment for the most part through the hair follicle, but also through the surrounding skin, and reaches C. acnes deep into the sebaceous glands.

The combination of transdermal transport and the bacteria-fighting ingredient gives a unique and powerful combination. We dare to say that our product, compared with the current product portfolio on the market to reduce the visual impact of blemished skin, is truly superior and without any side effects.

NOTE: Anna is Clear® is a cosmetic product and not a pharmaceutical product as the symptoms return after discontinuation of the treatment. On average the inflammations came back after 28 days within our group of volunteers. NOTE: Immediately upon restart of treatment the symptoms disappeared again.